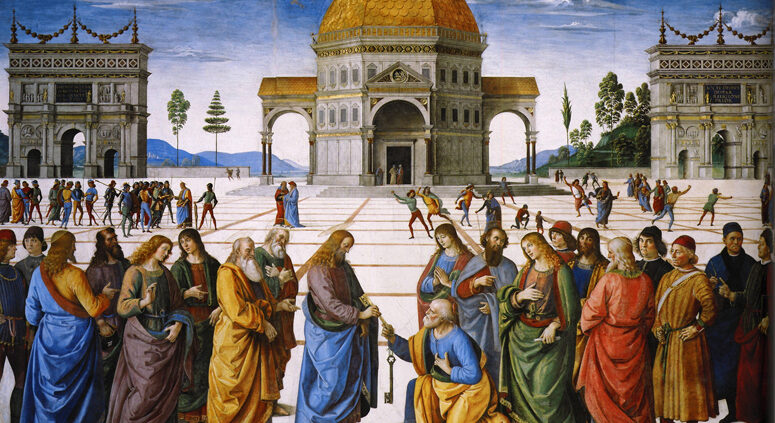 21st Sunday in Ordinary Time – 23rd August
Jesus does not ask this question in a way which seeks a throwaway reply. He seeks for us to discover how his life affects our own. In order to understand this, we need to examine the context in which this exchange takes place with his disciples. The scene takes place against the cliff face surrounding Caesarea Phillippi. This was the place which was considered to be the gates of hell and was taken so seriously that numerous Greek and Roman "gods" were placed on watch at the entrance. There was even a garrison of Roman soldiers garrisoned at the foot of these cliffs just in case all hell should break loose. This is not just passing the time of day but rather saying whether his disciples recognised that it was their relationship with him which held this internal struggle at bay. What we say yes and no to affects the way we live and relate to each other.
In our current age, we are also aware of how the person of Jesus is called to be a living and sustained relationship. This is not just a form of words or a well-expressed theology but rather a living prayer which shapes how we live. Our lives are called to be transformed by our prayer and our prayer is called to be transformed by our lives. In noticing how our relationship with Jesus sustains us and guides us we start to notice what he noticed. This is not only our own internal struggles but also a passion for the reconciliation and healing of the lives of people around us. This can seem like a life and death struggle in how we seek to become authentic and integrated into life. Our authority does not come by a delegation from outside but arises as a loving response which sustains us. Our witness of his life guides us to be present to our world with hope and grace.
So, the way we answer the question is not in what we say but in how we live. In fact, it is by considering this question each day that we discover the life of Jesus becoming central to our own reflections and actions. It is how we are called to become prayerfully aware of God's presence in the everyday circumstances that we encounter. God is present in who we seek to become and how we are present to each other. In this, we learn to discover deep inner freedom to become the person God desires us to be.

Fr. John Armstrong
http://cursillo.asn.au/wp-content/uploads/2020/08/21st-Sunday.jpg
480
775
Hans Ede
http://cursillo.asn.au/wp-content/uploads/2017/08/Cursillo-Logo.png
Hans Ede
2020-08-22 12:43:25
2020-08-22 12:43:28
Fr John's Reflection – 21st Sunday in Ordinary Time