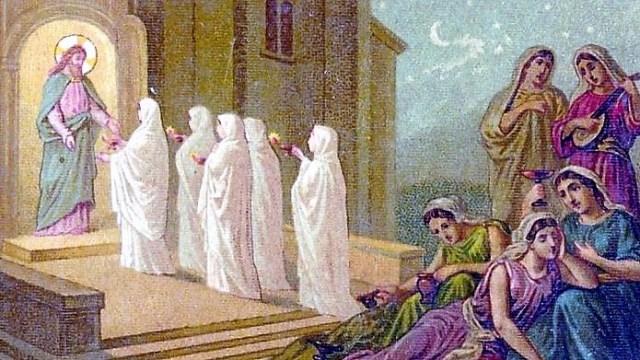 32nd Sunday in Ordinary Time – 8th November
Running on the smell of an oily rag!
There can be times in life when we just keep on going through an interior motivation to achieve a particular end. Yet we can also be conscious of feelings of tiredness, discouragement and at times being overwhelmed by the world around us. Yet there is a sense that in being present to these feelings with honesty and compassion we can show the same to others. We start to notice that the world does not revolve around me but in a relationship which sustains us to become our true self.
In the parable of the wise and foolish virgins waiting for the bridegroom's return, we start to notice our own way of being present to life. We can become aware that the end that we are striving for seems to be a long way off and we can start to sleepwalk through activities. Yet the wake-up call is how we respond when we are most in need to be present. Do we become attentive to our own situation and our ability to respond with faith, hope and love or do we notice what that moment may demand of us and shy away from responding? There is a saying that history is made by those who turn up. We are called to be aware that our presence and response makes a difference to the good of God, the good of others and the good of ourselves.
When so many things can seem to point towards bad news we can choose to be known as a person who responds with life and love to the situation we find ourselves in. We are called to be creatively present with our lives in nurturing that which brings life. In this way, we stand ready to respond in ways which notice the promptings of God to be people who pray, reflect and act for the good of our world.

Fr. John Armstrong
http://cursillo.asn.au/wp-content/uploads/2020/11/32nd-Sunday.jpg
360
640
Hans Ede
http://cursillo.asn.au/wp-content/uploads/2017/08/Cursillo-Logo.png
Hans Ede
2020-11-08 14:23:38
2020-11-08 14:23:39
Fr John's Reflection – 32nd Sunday in Ordinary Time