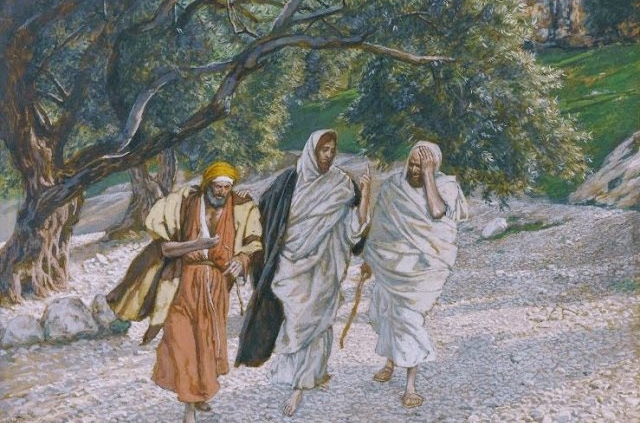 3rd Sunday of Easter – 26th April
Were not our hearts burning within us?
In this age of social distancing and the difficulty in gathering as a community in prayer, we have often become the smallest of communities travelling in pairs. There is something important about sharing time with another and listening to our own stories and expectations. So often our prayer can seem like an internal dialogue with myself which can create the impression that I am just talking to myself. This can be especially prevalent when we are socially isolated from each other. We need somebody to listen to us to share our concerns, worries, dreams and hopes. In allowing what is inside to emerge in our conversations we start to feel less alone and we can start to work out what is true to ourselves and what can be created by our own fears. There is a need to have a person who we can walk with who can share the pilgrimage with us.
The unusual element to this is that when we take this as a prayerful encounter a hidden stranger comes to accompany us. A person who truly listens to what most deeply concerns us and who meets us where we are on our journey. Yet this is not just a silent presence. In this environment, we can be drawn deeper to discover how our story becomes part of a greater story. The acknowledgement that each person is called to be a part of this story and that we are called into a deeper sense of encounter with God.
Especially when we seem to be in times when Churches are closed and it is possible to think that we are walking away from what is familiar and comforting, Jesus still sits down with us and breaks bread. In many cases, this may be through the virtual participation in Masses and a sense where we are in communion even though we cannot see or hear the other people we normally participate with. It helps us to see that our hunger is not just for receiving communion but being in communion. This longing which seeks to share the life of the person who gathers us into a relationship with God who is at the centre of everything. As we have this time where we start to know where our hearts burn within us with a deep desire for Eucharist we also form a deep desire to be together in prayer, to have the scriptures broken open for us and to see Christ in each other. Even for myself when I celebrate Mass it is this anticipation that feeds me not just with the Bread of Life but with the deeper hunger that Jesus calls me into a life-giving relationship which sustains us in communion. In this midst of the prayers we hope for this deeper longing to become a new Pentecost for us.

Fr. John Armstrong
http://cursillo.asn.au/wp-content/uploads/2020/04/3rd-Sunday-of-Easter.jpg
443
640
Hans Ede
http://cursillo.asn.au/wp-content/uploads/2017/08/Cursillo-Logo.png
Hans Ede
2020-04-28 17:22:25
2020-04-28 17:22:27
Fr John's Reflection – 3rd Sunday of Easter