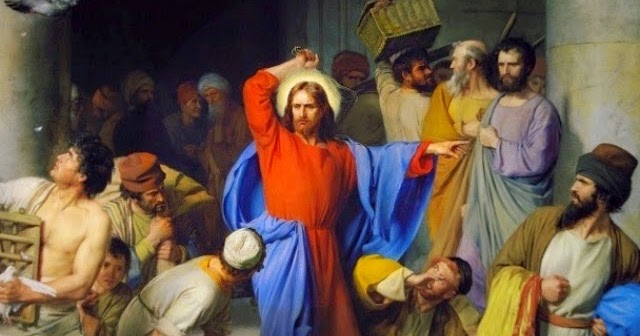 3rd Sunday of Lent – 7th March
Sometimes our prayers of intercession can sound more like a wish list where we try to bargain with God. We seek to influence a particular outcome in our favour and we would like God to see it from our point of view. Often this can seem like we keep badgering God with the same request even though it may not be what God sees as the best for us. There can be a tendency to see this is as a transaction which if I pay a certain amount of money, undertake a particular sacrifice or spend a certain time in prayer that God will respond more favourably to my request. There may even be a subtle thought that if I do this God owes me the solution which is most beneficial to my circumstances.
Yet sometimes it is in our disappointments that God encounters us as we truly are. The most significant insight is that we cannot buy God off and seek him to compensate us with a certain reward for our good behaviour. Regardless of our action or inaction the love of God is constant and I believe this is what Jesus notices in the turn over of the tables in the temple. His frustration and anger are not that people are seeking to develop a relationship with God but the thought that it can be turned into a transactional relationship. Jesus desires us to encounter God in a way that transforms our lives into a way that brings us into a deeper faith, hope and charity.
I believe this is where our Lenten discipline is the most challenging because it is not what we give up but rather how we abandon everything over to God. This profound surrender seeks to engage our whole being, heart, mind and body in a way of living which acknowledges our total dependence on God's loving presence in our lives. It is when we do that out of a profound union with the person who loves us most deeply that we start to discover who it is that we are called to be and how we are to act. It allows trust to be discovered which build up a sense of mutuality that we are created in God's image and likeness. There is a sense that God desires what will bring us the greatest happiness and the best contribution that we can make to our own community. Lent is not what we give up but rather the relationship we are drawn into that recognises that even in our frailty, sinfulness and limited vision that God calls us to see with eternal vision. To notice how God's presence transforms our world for good!

Fr. John Armstrong
http://cursillo.asn.au/wp-content/uploads/2021/03/3rd-Sunday-of-Lent-YB.jpg
336
640
Ken Garland
http://cursillo.asn.au/wp-content/uploads/2017/08/Cursillo-Logo.png
Ken Garland
2021-03-06 10:20:38
2021-03-06 10:20:44
Fr John's Reflection – 3rd Sunday of Lent