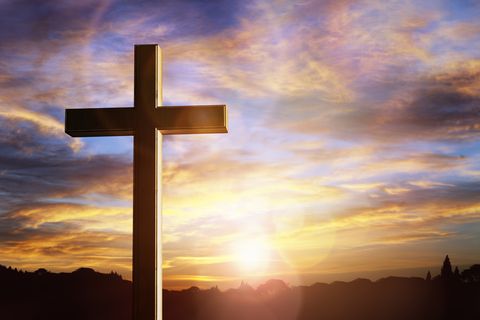 Easter Sunday – 12th April
When our lives are turned upside down and our usual activities are disrupted, we can wonder what on earth is happening? The COVID 19 outbreak has impacted on many of the things we take for granted: popping over to see friends, enjoying a pleasant meal, watching our favourite movie at a local cinema or even gathering to play sport. Yet the more immediate impact is how we work and care for each other. The fact that many people have shifted to carry out everyday activities in the home can bring unique challenges. The reality is that the home has become not just a place to live in, but a place to work, to learn and to socialise with those in the household. The reality is now there is no distance between these separate activities and it can take a certain amount of renegotiation to recognise the times that we engage with each of these different activities. This calls for a good level of communication for things which were often part of our daily routine which called us to be elsewhere but now call us to be here in this place together with those who share our household space.
We are also called to pray and reflect with each other. Our life is not just determined by what we do but who we become in our doing. This way of becoming is not easy with immediate pressures of maintaining a household and responding to financial pressures. The last thing that we can feel that we have time for is doing what appears to not produce immediate responses to pressing need. Yet how we are present to God, to each other and ourselves has never been more important especially during this week where we celebrate the Paschal Mystery. While there is a social distance between time and space these events have a pivotal impact on who we are called into a relationship with.
As we walk through this Holy Week, we accompany Jesus and see how his whole life was given over to the love of God, love of self and love of neighbour. When he was faced with the ultimate question in the Garden of Gethsemane, he did not run away from himself. He was able to accept that who he was determined what he was prepared to live and die for. This was not an easy decision, in fact, he wept blood which showed how this was not just a determination of his own will but rather was a commitment of his whole self. He loves us to death. This allows us to notice what he considered important enough to suffer the rejection of others, the betrayal of friends and the bearing of grief. He sought in all things to be what he was called to be.
I believe we see the same commitment in our own time when we see health workers, emergency workers and people in essential industries sacrificing themselves for the good of others. In this time, it calls us to ponder on who we are and how we can become what God calls us to be in this particular time of history. Some would look at circumstances beyond their control and start to believe that we live in the end times. Yet we always live in the reality of the last things, death, judgement, heaven and hell. Yet it is how we live for the sake of God's kingdom which dwells within us that can sustain us and make us whole. The story is more about how we become Holy and respond to this life-changing event in our Christian history. The Paschal Mystery does not end with Jesus' death on the cross but rather in a time of waiting and maturation where we listen to the voice which will sustain us. This time of Holy Saturday calls us to see Jesus not just in the externals of life that we have become used to in attending Mass, praying the Office and celebrating the sacraments. It also calls us to see how we internalise these celebrations as a place where a treasure is found within. The pearl of great price which sustains us through many uncertainties. As we await Easter Sunday, we are called to be open to the unexpected encounter with Christ who conquers death and draws us into a new life. He asks us anew who do we stake our life on?

Fr. John Armstrong
http://cursillo.asn.au/wp-content/uploads/2020/04/Easter-Sunday-1.jpg
320
480
Hans Ede
http://cursillo.asn.au/wp-content/uploads/2017/08/Cursillo-Logo.png
Hans Ede
2020-04-10 10:22:46
2020-04-10 10:22:48
Fr John's Reflection – Easter Sunday