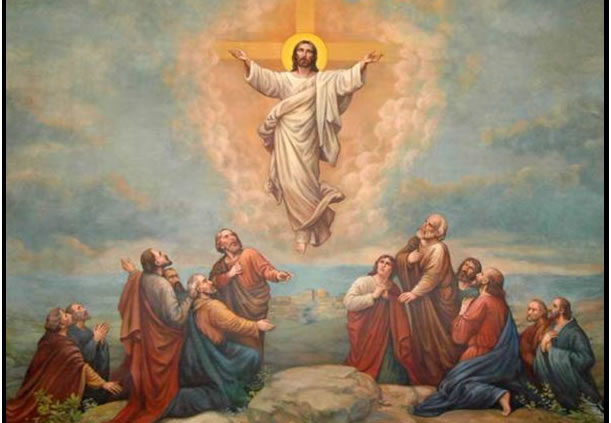 The Ascension of the Lord – 24th May
I am with you until the end of time
The words that leapt out at me from this weekend's Gospels are make, baptise and teach. My initial reaction was this seemed like an impressive 'to do' list. This great commission that is given to us is to make disciples, to baptise people in the name of the Father, the Son and Holy Spirit and teach all the things that Jesus commanded us. What this raises is that this is more than just a recruiting exercise but a desire to live a life which attracts people into a loving relationship with God.
The call to make disciples is not one which seeks to coerce people into following Christ but rather to befriend them. This takes the belief that our call to be people who are approachable is central to the way we live our lives. At the heart of our Christian faith is a person who seeks to draw us more deeply into relationship with God. This calls us to be people who are prayerfully present to the situations in which we live. The call is to become aware of what brings life to us and to others. When people see that we live our faith they will be attracted to ask us more.
On any journey, we recognise that there is a desire to be in communion with each other. This is at the heart of our community that we are called together as a baptised people. We are baptised into a person who is at the heart of our living. This requires a certain dying to ourselves that we may be born into a life which will sustain us. The recognition that each person is gifted by God for the good of the whole community. They do not exercise an office or live a particular charism for yourself only. This may well be at the heart of how we become Church. Rather than noting the different callings in life, we are called to recognise how we are called to become one in Christ Jesus.
At the heart of this is the great commandment which is linked to the great commission. "To love the Lord our God with all our heart, with all our soul, with all our mind and with all our strength and to love our neighbour as ourselves." We are not called to become rugged individualists but rather companions who recognise Christ in each other. This is what draws us into a relationship with God and with each other.
When this all seems too much and we feel that this may be hard work. Jesus reminds us that he is with us always. This allows us the freedom to discover how God is present to us in all times and all places.

Fr. John Armstrong
http://cursillo.asn.au/wp-content/uploads/2020/05/Ascension.jpg
487
611
Hans Ede
http://cursillo.asn.au/wp-content/uploads/2017/08/Cursillo-Logo.png
Hans Ede
2020-05-24 13:40:00
2020-05-24 13:40:02
Fr John's Reflection – The Ascension of the Lord