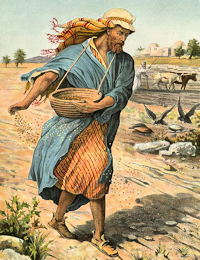 16th Sunday in Ordinary Time – 19th July
I was struck by how when I look at the little garden I am cultivating under my window that the weeds seem to be more prolific than the carefully planted bulbs. I have the hopes of a wonderful floral display to greet me especially in these times of winter and COVID gloom which seems to loom heavily around us. What I have noticed, however, is that I need to be patient. While the grass seems to thrive and grow quickly the bulbs only hesitantly push forward the signs of new growth, tentatively waiting the welcome of warmer days. Even with the meticulous gardening, it seems that the grass continues to flourish and the flowers only slowly emerge into the sunlight.
When I turn to the reading of the weekend the difference between the darnel and the wheat is less obvious. There is a fear that if you pull out one plant you will damage the other. There is a sense in which we are called to observe and be present to the environment in which both grow. They both bring forth green shoots but only one produces a "fruit" which is desired. Only one can be made into a bread which brings life. Yet it is only by careful observation that we can distinguish the difference.
In many ways, it is similar to situations we notice in life. What seems to bring forward green shoots and fresh insights does not always bring forth the desired fruit. Yet in these situations, Jesus calls us to be attentive to what is happening and notice what actually leads to life. Often this can look as though we give permission to something rather than developing a tolerance which allows a person to be nourished by the Word planted within them. Just as in all growth we need to help a person distinguish what truly brings life and which nourishes their life and others. This calls us to be attentive, tendering and aware of how in being present we help another to grow closer to our Lord.

Fr. John Armstrong
http://cursillo.asn.au/wp-content/uploads/2020/07/16th-Sunday.jpg
260
200
Hans Ede
http://cursillo.asn.au/wp-content/uploads/2017/08/Cursillo-Logo.png
Hans Ede
2020-07-28 17:15:06
2020-07-28 17:15:08
Fr John's Reflection – 16th Sunday in Ordinary Time