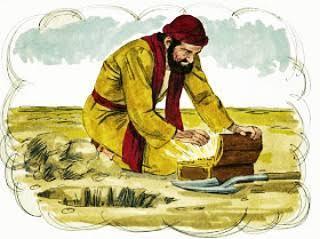 17th Sunday in Ordinary Time – 26th July
Solomon prays for the gift of service for himself into seeking to discern between good and evil in the service of others. In fact, it is one of the reasons we need to pray for the people who offer leadership either in government and in the Church. This calls us to be able to reason with our minds and test the inclination of our hearts to consider what is the right and good thing to do. In fact, it is this balancing of doing the right thing with good intentions that guides us to know how our life makes a difference for the wellbeing of others. This calls us to be people who pray with all our hearts, who reflect with attention not only to our opinions but to the wisdom of others and act in a way which embodies what is true to ourselves.
The call to prayer is not just to say prayers but to notice what is moving us towards a choice. This calls us to see whether in the first stage our direction is towards doing good or doing evil. By noticing what is happening in our hearts we can consider whether we feel disturbed, angry, afraid or anxious. This lack of peace calls us to become dissipated into many different ways of being present which seem to tear us apart. They draw us away from a feeling of unity and communion both within ourselves and with others. These are often signs that the bad spirit draws us into a conflict which is destructive not just of ourselves but also of the other.
The good spirit is very different. It can help us to notice the inner conflict within ourselves but seeks to navigate the destructive feelings that well up inside us. It helps us to notice first that feelings can be naturally present to each person but they can become a fruitful place from which we can have a conversation with God. They can help us to see that our prayer calls for honest self-evaluation of what feelings lead to life and those that do not. It also allows us to talk to a spiritual companion to sift what is happening in our relationship with God. In essence, this is not by seeing these feelings as alien to our sense of being but allowing them to be brought to the light. This allows us to see how we become constructive in our engagement in the world.
I feel that this is the wisdom that Solomon prayed for. It was not to remove himself from the world but to notice how he could be a person who could bring a sense of balance and equanimity to his considerations. He sought to seek not just what was good for himself but the good of the whole. This was by listening to the stories that people wished to tell him from their own perspective. However, it was not wishing to be influenced solely by that perspective but the motivation that was behind the telling of that story. Was it told for the personal advantage of the person, was it to address a situation which demanded justice for the whole community or was it to reveal the desire of God for the person? These are never easy decisions but a person who helps another to discern listens to the story and also where a person may be guided in the telling of that story. Any discernment seeks to take the next obvious step in the story of a person and our community.

Fr. John Armstrong
http://cursillo.asn.au/wp-content/uploads/2020/07/17th-Sunday.jpg
239
320
Hans Ede
http://cursillo.asn.au/wp-content/uploads/2017/08/Cursillo-Logo.png
Hans Ede
2020-07-28 17:17:59
2020-07-28 17:18:01
Fr John's Reflection – 17th Sunday in Ordinary Time