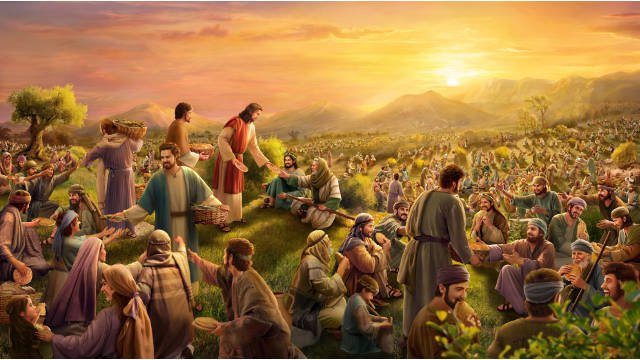 18th Sunday in Ordinary Time – 2nd August
Why spend your money on what cannot fill, why spend your time on what fails to satisfy?
In times of the pandemic, there are two fundamental questions about how we spend our time and how we spend our money? The spiritual exercise of looking at our diaries and our bank statements can often tell us more than we are prepared to notice. They help us to know what is informing us and influencing who we are as a person. We know that many of the search engines and social media accounts often use what we are regularly accessing to show us adverts that may seem to be pertinent to our age or interest. There can often be a sense of how did they know what I was thinking. In fact, in this age of modern technology, the search engine can often predict where our interests are leading us and give us more of the same. But what they cannot tell us is what is happening within us? Am I just consuming things and wasting my time or is what I am attending to helping me to grow as a person?
In an age which seeks to promote reaction rather than reflection, it is important that we notice how we are being led to make certain choices. Often these choices can seem to be small, but they can influence the person I become. What is it that I seek as being central to my life? This is not necessarily about finding the right answer but rather noticing what prompts me to act in one way or another. I believe that this could easily be summed up in the question does this bring me life or not? This may seem to be very self-centred, but it is rather looking at what gift has God planted in my heart that can be shared with others. If my life is not moved by love for God and the way I live, then we can easily become people who are shaped by events beyond our making. We fail to see the opportunities which are uniquely ours to share the goodness of God in the place where I am called to be present.
This brings me to how we recognise that God has already provided us with what we need to make the next obvious step. There can sometimes be a hesitancy to step out because we do not feel we have enough or that somebody else could do the thing we are considering with greater expertise and professionalism. Yet when we listen with our hearts, we start to discover what is necessary for this day. By offering everything to God not only are we transformed but so are the things that we offer. The ordinary becomes extraordinarily fruitful. This is not so that we draw attention to ourselves, but we grow in the trust that God will provide what is needed for this day and this moment. In the very act of surrendering our day to God, we discover that we can offer our whole self to produce abundance which fills us and satisfies us. This is not by having more than enough but discovering that our lives matter to God and to our community. Together we can find that our lives are blessed and are a blessing to each other.

Fr. John Armstrong
http://cursillo.asn.au/wp-content/uploads/2020/08/18th-Sunday.jpg
360
640
Hans Ede
http://cursillo.asn.au/wp-content/uploads/2017/08/Cursillo-Logo.png
Hans Ede
2020-08-06 13:49:49
2020-08-06 13:51:38
Fr John's Reflection – 18th Sunday in Ordinary Time